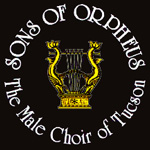 Home
Información en español
Join
Performances
Founder/Director
Our Bios
Gallery
Newsletter
Administration
Support
Engage Orpheus
Repertoire
CDs & Audio
History & Policy
Links
Members Only


Members
The Director and Accompanist
Grayson Hirst, Artistic Director
Grayson Hirst, professor of voice at the University of Arizona, has devoted himself to the evolution of Sons of Orpheus since founding the organization in the fall of 1991. His full biography can be found here.


Brent Burmeister, Accompanist
Our pianist since 1998, Brent is one who not only can play the accompaniments to perfection, but also carefully checks all arrangements. We appreciate the valuable advice and error checking of the "Orpheus Philharmonic," and also the occasional tidbits from Adler, Schopenhauer, and Nietsche that he throws at us.
The Singers
* Indicates a founding member of the choir
First Tenors
Eugene Friesen—Eugene has had two careers, first as an army chaplain, and second as a psychologist in private practice in Tucson. In retirement, he gives psychology lectures on cruise ships.


Jeremiah Gaefke


John F. Kamper—John, while in the seminary for 11 years, was in the Schola (choir) as a member and also as Choir Conductor, both for Gregorian Chant and polyphony. He played the clarinet, the Tenor Sax in a Dixieland Jazz quintet and strummed the guitar to folk songs in the 60's. After the seminary, music slipped by. He was busy raising a family, working for various banks as a Manager of the Real Estate Department. John is now an Adjunct Faculty Member for both Pima Community College and Embry-Riddle Aeronautical University, teaching Finance (he has an MBA) and Microsoft Office courses. After a chance meeting with Tom McGorray, John joined Sons and has since realized how much he missed and enjoys singing.


Tom McGorray—Listserv Manager
A native of Buffalo, NY, Tom is a former Naval Aviator and a retired FBI agent. Tom has sung with the Barbershopers (SPEBSQSA) in quartets and choruses for 48 years. Tom also sings with the Diocesan Chorale, and St Elizabeth's Parish Choir, the Star Spangled Seniors, Matinee Idles Quartet, here in Tucson. Tom is a Desk Top Publisher, writer, an Apple Macintosh computer consultant and maintains some 30 web sites on the Internet. He also runs seven listservs, including the Sons of Orpheus (sonsofo), the Knights of Columbus (KC8077), and one for 3400 retired FBI agents (xgboys).


Bruce Mortensen—Section Leader
Born in Clinton Iowa, Bruce has lived in Tucson since 1978. His partner Vicki Franz works at the American Board of Radiology. "We have two live-in domestic terrierests which keep us on border patrol of our back yard. They think of themselves as great white bush hunters in their little pith helmets, but we have their numbers!"


James Naughton—Born in 1941 in Pittsburgh, James moved to Tucson in 1951. He went to High School, and college at a seminary in California and graduated from the University of Arizona in 1963. Married to Lesa, James has two children and owned and operated Naughton Plumbing until his retirement on January 1, 2000.


Tony Spar
Bryce Tomlin


Jim Tomlinson—Jim was program manager for a $1.5 billion joint military services program to computerize the development of weapons systems.


Jerry J. Villano—Jerry graduated from the University of Colorado in 1956, and has been a Tucson resident for fifty-three years. He trained and graduated from Colorado University—Boulder, Colorado and Physical Medicine, Denver, Colorado. He worked in private practice as a Physical Therapist for forty-one years and is now retired. He has five wonderful children and five wonderful grandchildren. His dear deceased wife Betty of fifty-two years supports family, friends and Sons of Orpheus concerts with her spiritual grace. Jerry has sung with Sons of Orpheus for eighteen years.


Dick Wroldsen—Dick moved to Tucson in 1993 from the Bay Area, and is currently associate manager of Long Realty's Foothills office. Dick is a member of the Catalina Foothills Church and sings in the choir. Dick and his wife Kay enjoy desert living in the Old Foothills and have two married children in Portland and Denver, and two grandchildren.



Second Tenors
Dave Burns—Section leader
A Montana native, Dave has lived in Tucson since 1984. He is a partner in BWS Architects, and is a hiker, bicyclist and fisherman. His wife Nancy is a fantastic cook and native of Lima, Peru. He has two grown daughters.


Doug Crockett—A native of North Dakota, Doug grew up singing in a Presbyterian church choir, the Fargo High School Boys Octet and University of North Dakota Varsity Bards. After completing an MBA in Minnesota, Doug and his wife, Jackie, moved to Tucson in 1991. Doug worked as the energy manager for both Tucson Unified School District and City of Tucson before retiring in 2014. Doug also sings with the Tucson Threshold Choir.


William Darnell
Darwin Hall—Performing under his first name only, Darwin—"Mr. Smoooooth," from Washington, D.C., has been an active part of Tucson's arts community for more than thirty years, as both a professional singer and an actor. Darwin has been active in choral singing since high school, when his choir sang in the Rotunda of the Capitol Building for the 100th Anniversary of the Emancipation Proclamation. He attended Bethany College, Bethany, West Virginia, where he sang with both the Concert Choir and Male Chorus. Audiences clearly enjoy his rich baritone voice and his warm personal magnetism whether on stage, at a dinner house, a dance, private party, a retirement community, many local churches or sacred ceremony. He regularly sings every Friday evening at Vitello's Resturante Italiano, in Catalina.


Gavin Kayner
Richard Kenney—Richard sang with the Newton South Choir for three years, and played the lead in the musical Charley's Aunt. In college, he had a bit role in A Funny Thing Happened on the Way to the Forum. He sang with the Yale Glee Club.


Bob Kurtz—A graduate of Michigan State University with a B.S. in Electrical Engineering, and having served 8 years, active and inactive, in the U.S. Army Reserves, Bob is now retired from his family sand, gravel, and ready-mixed concrete business. He and his wife split their year between Michigan and Green Valley. Since high school, Bob has been actively involved in church and community choirs, and has performed in a number of operettas.


Richard Miller—Richard grew up in upstate New York and attended the University of Rochester and Union Theological Seminary in New York City. He worked at Westminster School in Simsbury, Conn., for 33 years, eventually becoming Assistant Headmaster. He retired to Tucson in June of 2000. Since that time he has served as a community volunteer for several organizations, including the Community Advisory Board of United Way, as well as its Supporting Seniors Coalition, and as a Literacy Volunteer Tutor. He is the current chair of the Executive Committee of Sons of Orpheus. Richard and his wife Linda have two children, both of whom are married and live in California.


Dennis Riley


Larry Sayre—Larry grew up in Indiana, the oldest son of a Methodist minister. He attended DePauw University and obtained a BA in Psychology. He attended Arizona State University and obtained a MA and PhD in Psychology. Larry served 32 years with the United States Air Force, 26 years on active duty as a psychologist serving our troops and their families in several states and multiple foreign countries. Since retiring from active duty he has continued to serve as a contractor at the medical clinic at Davis-Monthan. He married the love of his life, Nancy, in 1961. Together they have one daughter, Jocelyn, and one grandson, Joshua. He has sung in choirs since childhood and everywhere he has lived.




Baritones
Mike Bradley—Mike is from the Bay Area and has been an apprentice boat-builder, a Marine, a Sierra Club staffer, a "junior executive" in the transportation industry, a graduate student at Michigan's School of Natural Resources and Environment, a post-doctoral fellow at the Scripps Institution of Oceanography in La Jolla and a professor of Hydrology and Water Resources and Urban Planning at the U of A since 1972. He specializes in water rights and policy in the Southwest (California, Arizona, New Mexico and Texas). He and "team Bradley" (wife Dorotha and her sister Kathleen) were on the Germany-Austria tour, enjoying it greatly. Mike also paints watercolor landscapes and is in the Southern Arizona Watercolor Guild.


Jeffry Davis—Jeffry has been singing in choirs from about age 10. He became involved in musical comedy, and has sung in many choirs in college, New Jersey and Arizona.


Chuck Dickson—Chuck moved to Tucson after taking early retirement from teaching history at a small college in Ohio. He is thoroughly enjoying Tucson. In addition to singing with Sons of Orpheus and Arizona Repertory Singers, he is an active member of Grace St. Paul's Episcopal Church. His hobbies include reading, weight-lifting, and swimming.


Jim Filipek—Jim has been singing in choruses for over 40 years, and has some conducting experience as well. He is married to Candice.


Cameron Fordyce—Cameron retired in 1994 from a career with the Federal Reserve Bank, and worked thereafter for five years at Northeastern University Graduate School of Business running a Master of Science in Finance program. He has been involved, off and on for the past 40 years, in singing choral, church and folk music. He and his wife moved from Massachusetts to Tucson in 2003. They have four children and five grandchildren. They have a summer home in Marion, Massachusetts.


Michael Fraser—Originally from British Columbia, Canada, Mike is a metallurgical engineer with a career in the international mining and metals business. His current business card says he specializes in smelling the roses (planted by others), singing the old songs, and spoiling the grandchildren.


Randy Harris—Randy can't ever remember not singing: Sunday school, school choirs, church choirs, a folk group (The Madras Singers), Ball State University Singers, St. Francis in the Foothills choir, musicals…the shower. Randy was illustrator, cartographer and typographer for The Tucson Citizen until it closed in 2009; he now owns his own graphic services business (J. Randall Harris Design) and, not coincidently, designed the CD package for The Sons of Orpheus Holiday Hits CD.


Frank Hartline—Frank and his wife Cherie moved to Tucson to work for Raytheon Missile Systems from Dallas, where he worked for Texas Instruments after a 30 year Army career as an armored cavalry officer, acquisition manager and economics professor. Degrees include a BS in Engineering from the US Military Academy and an MBA in Finance from the Wharton School, UPA. Frank sings with the Catalina Foothills Church and Arts Express choirs and with the Tucson Babershop eXperience—the Tucson chapter of the world's largest male singing organization, the Barbershop Harmony Society. He performs with the western band the "Moonstruck Coyotes."


Jim Kitchack


Ronald Schwind—Ronald was formerly a Cadastral Surveyor whose 44-year career embraced delineation of original land boundaries for conveyance of title from Federal to individual, State of Alaska, and Alaska Native Corporation ownership. He also participated for nearly 30 years in Alaska and Arizona as an "Ending Hunger" activist.


Walter Thomas—Walter moved to Tucson seven years ago from Dayton, Ohio. He is a semi-professional photographer. Two sons and their families also live in Tucson.


Basses
Matthew Boberg


Kenneth Frahm—With more than thirty years in barbershop choruses and more than fifty years in church choirs, Kenneth loves to sing in groups. He grew corn and wheat in northwest Kansas before retirement.


Dale Fuller—Section leader



Kent Hoge


Arnold Hunter—Music has been a part of Arnold's life since his music teacher mother started him on piano at age 3. He has played bass guitar in a number of projects and sang bass in the Catholic Masterworks Consort.


George Ledbetter—George is in his third year as an Orphean where he sings bass. A native of Seattle Washington, George received his BA degree from The University of Puget Sound and his MBA from Seattle University. George moved to Tucson about 9 years ago and became a member of the Unity Chorus, The Southside Presbyterian Choir. He currently sings with the Tucson Arizona Mass Chorus (TAMC) and the Eckankar chorus. He retired from Thermal Efficiency Inc. an alternative energy company. His friends accused him of working to support his physical fitness habits; running, bicycling, mountaineering and playing racquet sports.


David McWaters—Originally from Birmingham, Alabama, David has been singing since he was about thirteen years old. Music has always been a part of his life. He lives in Marana with his wife and three children.


Stephen Romero


Gary Smyth


George Soltero— A recovering Federal Public Defender, George was named after George Herman "Babe" Ruth. He loves to sing (a bass who loves to go up high!), serves as an assistant Scout Master, and is going broke with two kids in college.


Eugene Stevick


Thomas Wentzel—Webmaster. Tom grew up in Maine, where he sang in the Bates College Choir for four years. In Tucson in the late 80s, he sang motets, madrigals, carols, and shape-note music with the eight-member Furry Day Singers. He joined the Sons of Orpheus in January 2002 and enjoys their varied repertoire. With a Ph.D. in Physics, Tom works as a senior scientific programmer for the National Solar Observatory. He has been married to Cindy Meier since 1987. He currently divides his free time between weekend dayhikes in the nearby mountains and deserts, Sons of Orpheus, for which he is Webmaster and arranger, and The Rogue Theatre (co-founded by Cindy Meier), for which he is Webmaster, layout artist, financial secretary, and business manager.


Woon-Yin Wong


To send us comments or questions about Sons of Orpheus,
please use your email program to contact us using this address.