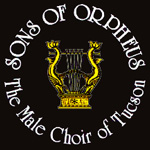 Home
Información en español
Join
Performances
Founder/Director
Our Bios
Gallery
Newsletter
Administration
Support
Engage Orpheus
Repertoire
CDs & Audio
History & Policy
Links
Members Only


Administration
SONS OF ORPHEUS is administered by a Board of Directors, and an Executive Committee and system of volunteer "action teams" chosen from the choir membership.
---
BOARD OF DIRECTORS
Dr. Dorotha Bradley—President
Betty Allen—Vice President
Nancy Garcia—Secretary
John Kamper—Treasurer
Grayson Hirst—Founder/Artistic Director
Dr. Michael Bradley
Fred Montes
Alberto Ranjel III
Kathleen Schumpert
---
HONORARY ADVISORY BOARD
Jo Anne Anderson
Mia Hansen
Faye Robinson
---
EXECUTIVE COMMITTEE
Richard Miller—Chairman
Gary Smyth—Recording Secretary
Jim Kitchak—Corresponding Secretary
John Kamper—Treasurer
Dick Wroldsen—Financial Secretary
Bruce Mortensen—Member At Large
Michael Bradley—Member At Large
Tom McGorray—Member at Large
Grayson Hirst, Founder/Director—Ex Officio
---
SECTION LEADERS
Tenor I—Bruce Mortensen
Tenor II—Dave Burns
Bass I—Jim Kitchak
Bass II—George Ledbetter
---
Our mailing address is:
Sons of Orpheus
P.O. Box 31552
Tucson, AZ 85751-1552

---
To send us comments or questions about Sons of Orpheus,
please use your email program to contact us using this address.