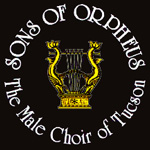 Home
Información en español
Join
Performances
Founder/Director
Our Bios
Gallery
Newsletter
Administration
Support
Engage Orpheus
Repertoire
CDs & Audio
History & Policy
Links
Members Only


Administration
SONS OF ORPHEUS is administered by a Board of Directors, and an Executive Committee and system of volunteer "action teams" chosen from the choir membership.
---
BOARD OF DIRECTORS
Dr. Dorotha Bradley—President
Betty Allen—Vice President
Nancy Garcia—Secretary/Treasurer
Grayson Hirst—Founding Artistic Director
Dr. Michael Bradley
Fred Montes
Alberto Ranjel III
Kathleen Schumpert
---
HONORARY ADVISORY BOARD
Jo Anne Anderson
Mia Hansen
Faye Robinson
---
EXECUTIVE COMMITTEE
Richard Miller—Chairman
Gary Smyth—Recording Secretary
Gavin Kayner—Corresponding Secretary
Jeffry Davis—Treasurer
Dave Burns—Financial Secretary
Bruce Mortensen—Member At Large
Michael Bradley—Member At Large
Darwin Hall—Member at Large
Grayson Hirst, Founding Artistic Director—Ex Officio
---
SECTION LEADERS
Tenor I—Bruce Mortensen
Tenor II—Dave Burns
Bass I—John Evans
Bass II—Dale Fuller
---
Our mailing address is:
Sons of Orpheus
P.O. Box 31552
Tucson, AZ 85751-1552

---
To send us comments or questions about Sons of Orpheus,
please use your email program to contact us using this address.