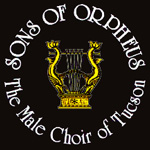 Home
Información en español
Join
Performances
Founder/Director
Our Bios
Gallery
Newsletter
Administration
Support
Engage Orpheus
Repertoire
CDs & Audio
History & Policy
Links
Members Only


Joining Sons of Orpheus
If you would like to join us, call Grayson Hirst at 520-484-3743, or visit one of our rehearsals.



Tucson Boys Chorus Building
5770 East Pima Street
Wednesdays at 7:00 P.M.
between late August and early May


We are a group of amateurs—men who like to sing. Some of us have sung with choral groups for many years, for others the SONS OF ORPHEUS is a first time experience. Some of us have had a great deal of musical training, others have had none. All of us have persisted until we perform unashamedly before a musically aware public. We do make the following commitments when we decide to join the group:

We agree to attend the Wednesday evening rehearsal with regularity and Saturday morning rehearsals as they are needed.



We do perform wearing the uniform of the day. Sometimes it is in Tuxedo (with or without a black Stetson); sometimes in khaki slacks and blue polo shirts. We even have Russian Rubashkas for the occasion.



We annually make a $120.00 (tax-free) donation to the Treasury of the Sons of Orpheus to help defray the expenses of production.



We promise to try to master the pronunciation of the German "ü" and the French nasals.



We promise to bring a pencil with us to each rehearsal for the purpose of marking the music.



From time to time, we each help with the work of the group: production activities, publicity blitzes, arranging for concerts, taking care of the music library, administrative chores, etc.

The group promises to welcome you, to help you master the arts of music and diction, to tell jokes from time to time as needed to lighten the atmosphere, and above all, to have a good time.

We practice each Wednesday evening from 7:00 to 9:00 P.M., usually at




Tucson Boy's Chorus Building

5770 East Pima Street

Tucson, Arizona

and most Saturdays from 8:30 to 10:00 A.M., usually at

St. Cyril Church
Northeast corner of Pima Street and Swan Road




Interested men are invited to visit and consider joining the group.

We welcome new singers at almost any time, but those who start singing with us late each summer and early in the fall generally form the backbone of the group. We perform many Holiday concerts, including a benefit for the Tucson Community Food Bank, and six concerts with the Tucson Boys Chorus at Mission San Xavier as a fundraiser for Mission restoration. We perform our Annual Gala Spring Concert at several Southern Arizona locations in April.
To send us comments or questions about Sons of Orpheus,
please use your email program to contact us using this address.