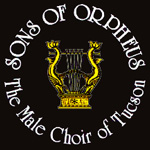 Home
Información en español
Join
Performances
Founder/Director
Our Bios
Gallery
Newsletter
Administration
Support
Engage Orpheus
Repertoire
CDs & Audio
History & Policy
Links
Members Only


History, Policies and Procedures
Mission:

Sons of Orpheus — The Male Choir of Tucson provides opportunities to learn and perform a varied choral repertoire from many cultures.
Sons of Orpheus prohibits discrimination on the basis of race, national origin, color, creed, religion, sex, age, disability, veteran status, sexual orientation, gender identity, or associational preference regarding choir and board membership, staff, volunteers, and guest musicians.

---
A Few Thoughts from the Director, Grayson Hirst…
Why do people come together to sing? What, if anything, is different about singing in a male voice choir? Well, to begin, while the world is out there negotiating costs, benefits, and rewards, spending hours rather than redeeming them, here we are in our rarefied choir world negotiating spirited interpretations and reveling in a place where we are rewarded with connections, harmonies. Our reward is the celebration of what it means to do something worth doing just for the sheer love of doing it. The reward is the doing.
Beyond a feeling of brotherhood, beyond the joyful friendships, I believe reward for us lies in the pure love of singing itself. When we sing together, we unleash something inside ourselves that might otherwise be missing in our daily lives. We are able to give voice to what is otherwise emotionally inexpressible. There's no denying it, when the tussling beefiness of a big male voice choir pours into us, we feel exuberant, enhanced by the soul-mix. We're enlarged, recharged. Call it a spiritual ecstasy; call it gratitude for life's mysterious unearned gifts.
---
History of Sons of Orpheus
The Early Years
In the fall of 1991 our Artistic Director Grayson Hirst, professor of voice at the University of Arizona, founded Sons of Orpheus—The Male Choir of Tucson as a community-based choral organization with the aid of a UA College of Fine Arts Faculty Incentive Grant to promote the vocal and choral leadership of the University of Arizona School of Music. Twelve men, some borrowed from local church choirs, formed the original group.
In the first few years, our performances were generally limited to a few "mini-concerts" plus an annual Spring Gala; but from the beginning we have sung in several foreign languages. Programs have consisted of romantic songs from Mexico, songs by Stephen Foster, Gregorian chants, operatic choruses, Spanish-American pieces, Welsh chorales, sea shanties, Cole Porter songs, Robert Frost poems set to music by Randall Thompson, and a growing collection of classic "cowboy" selections.
By the 1995-96 season we presented twelve performances. Besides several "mini-concerts," we collaborated with the Catalina Chamber Orchestra and the Tucson Boys Chorus in three performances of Gabriel Fauré's Requiem. We also began a long collaboration with the Arizona Balalaika Orchestra in its annual concerts, and later in the season presented a concert to an overflow crowd at the Tubac Center for the Arts. Performances for the Eastside Concert Series, the Green Valley Concert Association, an "appreciation" concert at Northminster Presbyterian Church, and the annual Spring Gala rounded out the season.
Soon our programs had grown to more than twenty concerts a season. In addition to a "mini-concert" schedule, in 1997 we began annual performances with the Tucson Arizona Boys Chorus at Mission San Xavier del Bac for the benefit of the nonsectarian, nonprofit organization Patronato San Xavier that supports the restoration and preservation of this national historic landmark. In 1998 we began annual holiday benefit concerts for the Community Food Bank at the Berger Performing Arts Center on the campus of the Arizona State Schools for the Deaf and the Blind. We also began singing in Russian with the Arizona Balalaika Orchestra in their annual shows.
Other early performances of special note included a program shared with the Tucson Girls Chorus, participation in the Southwest Choral Festival at the Temple of Music and Art, several "cowboy" concerts at Old Tucson Studios, a concert for a national meeting of the National Trails Association, and performances with the Tucson Pops Orchestra. And of course, each performance season was capped off by our annual Spring Gala.
White House Trip and Our First European Tour (Germany, Austria, and Hungary)
The 1998-99 season featured our first major trip: an invited Christmas program at the White House; and by the 1999-2000 season we planned a successful two-week concert tour to Germany, Austria, and Hungary for June and July, collaborating with several European choral groups. The tour started in Cologne, featured a boat trip on the Rhine, and ended in Vienna. By now our membership had grown to more than fifty men. Orpheus had also hosted a visiting choir from Sopron, Hungary. In anticipation of our first European tour, a choir member designed and supervised the creation of a beautiful choir banner that was proudly displayed alongside the banners of our host choirs at all concerts. It continues to receive a place of honor at our performances.
Recordings, Mexican Trip, and Second European Tour (the British Isles)
At Christmastime in 2001 KUAT aired a half-hour special entitled "Christmas at San Xavier," which we had videotaped earlier that fall. PBS repeated that show nationwide several times that year and over the next few years.
We recorded a CD, Arizona for the Holidays, in cooperation with the Tucson Arizona Boys Chorus and Rodney Glassman. Then we producedEclectic, a CD of the live performance of the 2002 Spring Gala, followed by Live at the Proscenium, May 2003. Orpheus took the initial steps for producing two CDs, featuring sacred Christmas music, and another one featuring classic cowboy songs. Live at the Proscenium, as well as Star of Wonder: Christmas Masterworks from Around the World, Christmas at Mission San Xavier del Bac, and Cowboy Classics of the Old West, are available for sale on our CD page.
We continued to develop our repertoire and performance skills. In addition to the regular programs, a concert tour was made to the Mexican state of Sonora in March of 2001 that was well received by audiences and favorably reviewed by local arts critics.
During the summer of 2002 we made a successful concert tour to Ireland and the UK. Singing in Dublin's St. Mary's Pro-Cathedral, in Russian, Czech, Norwegian, and Welsh, we covered folk music, operatic choruses, American arrangements of Irish music, and a selection of cowboy songs from "Rawhide" to "Happy Trails." We even astonished the audience with Jo Anderson, our own cowgirl yodeler, complete with a sparkly ten-gallon hat. At a beautiful community center in East Fife near Edinburgh, we sang a fund raiser for Save the Children with the East Fife Male Voice Choir, the two choirs alternating sections of the program until we stood together to sing "The Star Spangled Banner" and "Scotland the Brave," to the delight of a large and responsive audience. From there it was straight south to Wales, performing in Czech and Cowboy in a choral competition at the prestigious Llangollen International Musical Eisteddfod, then celebrating its 55th year. Two days later we sang with the Wessex Male Voice Choir in Swindon, England. Our final concert took place in West Ruislip near London. That fall we began a season of more than thirty performances.
Third European Tour (Italy)
On the strength of our successful 2002 tour of the British Isles, we made an Italian concert tour in 2004, often singing in Italian to the Italians. The tour's highlight was singing a male choral version of "Nessun dorma" from the final act of Giacomo Puccini's Turandot, at the 7th Annual Alta Pusteria International Choir Festival in Dobbiaco, receiving a forever-memorable, overwhelming audience response.
Before leaving Tucson we had been singing some Spanish numbers with El Mariachi Tapatio, a group of twelve, led by their founder Alberto Ranjel, Jr.; they were able to join us in Italy to perform at five of our six concerts including one in Rome's English-speaking Church of Santa Susana on Sunday, July 4, where we sang "The Star Spangled Banner" and then retired to the choir stalls to listen to Tapatio, perform La Misa Panamericana before our post-service concert.
Fourth European Tour (Germany, the Czech Republic, and Austria)
We increased our international exposure during the summer of 2008 with a concert tour in Germany, the Czech Republic, and Austria, focusing on the Leipzig International Choral Festival.
As Orpheus is dedicated to providing an ongoing showcase for outstanding student musicians, two UA School of Music students were awarded Orpheus travel scholarships, making it possible for them to experience Europe for the first time.
This tour began in Leipzig, which boasts that it is "The City of Music," no small claim in a country where great musicians abound and are considered national heroes. We visited the house where Felix Mendelssohn lived and died, and on 16 July paid homage to that composer with a performance in the music salon of the Mendelssohn-Haus. That day we also performed The Exodus Song in the Peterskirche as part of the Leipzig International Choral Festival. Orpheus also performed in a grand finale concert in another of Bach's churches, the magnificent Nikolaikirche, where the Monday Demonstrations first touched off East Germany's "Peaceful Revolution." Prior to departing Leipzig on 18 July and having received a special invitation, we performed a solo homage to J.S. Bach in the Thomaskirche, where the great man spent the last twenty-seven years of his life as cantor, organist, and choirmaster.
From Leipzig we traveled east to Prague, capital city of the Czech Republic, located in the heart of central Europe. In that beautiful city's Old Town we presented a concert in the Kostel sv. Mikuláse (Church of St. Nicholas), built in 1735.
Then it was on to Austria. In Faistenau, near Salzburg where Mozart was born, we performed portions of his Die Zauberflöte (The Magic Flute) on 22 July.
Read more about our 2008 trip here.
Fifth European Tour (Italy Again)
On a Sunday afternoon in mid-July, 2012, carrying our music and dressed in our white dinner jackets, we walked in the heat of a Roman summer to St. Peter's Basilica, made our way through security, and arrived near the main altar at 3 p.m. for our 4 p.m. performance, which had been made possible by the Most Rev. Gerald F. Kicanas, Bishop of Tucson. We were finally permitted to enter the apse at the end of the central nave behind the main altar, dominated by Gian Lorenzo Bernini's Altar of the Chair of Peter. This chapel, the size of a small church, was soon filled with worshipers. We sang during the service accompanied on the pipe organ by our pianist, Brent Burmeister. Brent's concentration was almost interrupted by the regular organist who kept changing stops and reaching around Brent to play some of the regular service music responses. Brent persevered. Probably the highlight of our participation was our singing of the "Sanctus" from Charles Gounod's Messe solennelle de Sainte-Cécile with violin and tenor solos by students who accompanied us on our trip. Afterwards, we slowly made our way back to the bus, which then took us fairly close to a restaurant near the spectacular Trevi Fountain where we dined together.
We left for Florence the next day. Tuesday morning we traveled from Florence over forty miles to Pisa. Unbeknownst to us, our bus was required to park at the city's outskirts. It was then that we discovered that no provision had been made to get us into the city's center. The wife of one of our baritones spoke French with our bilingual driver and soon arrangements were made to use a tram, similar to those found in amusement parks, to get us where we needed to go. After sightseeing, we again boarded the tram for a public garden called Giardino Scotto, where, in our blue Orpheus polo shirts, we sang to our friends and a small number of Italian park goers, climbed aboard the toy transportation, met our bus, and returned to Florence.
The next evening we made three separate trips on a van to our venue near the Ponte Vecchio on the Arno River, the Chiesa di Santo Stefano, an impressive deconsecrated church dating back to 1116. Here in our white dinner jackets we sang to our friends and a small crowd of Italians and tourists. Walking back to our hotel, many of us stopped along the way for drinks or dinner.
The next morning, Orpheus departed, bound for the Cinque Terre region, a remote part of the Italian Riviera characterized by terraced vineyards, fishing villages, and rocky beaches. On Friday we were supposed to sing in the church of Santa Margherita d'Antiochia in Vernazza, a fundraiser for that picturesque village, which had been severely affected by storms. But we reluctantly accepted the tour arranger's recommendation to cancel our performance, due to a threatened national train strike, that would have prevented our return to our hotel in La Spezia.
Saturday took us to Milan. We dined together on Orpheus's last night in Italy at a restaurant in the center of Milan.
Something New
Beginning in 2012 and continuing in 2013 we sang in Chinese at Centennial Hall on the University of Arizona campus to help celebrate the Chinese New Year Festival.
Sixth European Tour (France!)
In May of 2016 Orpheus traveled to France to sing in the Cathédrale Notre-Dame de Paris and the Eglise de la Madeleine. After those almost unbelievable experiences, we traveled to Angers in the Loire Valley to join with the Choeur d'Hommes d'Anjou, an internationally acclaimed French men's choir in a joint concert. Following a song-fest the next morning in the former chapel of the medieval fortress in Angers, we returned to Paris for a farewell dinner.
---
Repertoire:

The musical repertoire for a given season is determined during the preceding spring and summer months. The Music Committee collects suggestions and recommendations for musical themes and individual songs from the membership of Sons. These suggestions are reviewed by the Artistic Director and the Music Committee. Music is chosen to reflect diversity in genre and style, sophistication, cultural background and language, and historical period. Choices are not simply a random collection of 4-part songs for male choirs. Rather, music is chosen to represent themes that highlight the talents of Sons while emphasizing genres of potential interest to our audiences.

A part of the Sons repertoire reflects standard "core" selections of secular Christmas and classic cowboy selections that are repeated in performances season to season.
---
Rehearsal Format and Schedules:

Rehearsals for the new season begin in late August. Rehearsals are held on Wednesdays from 7:00 to 9 p.m. and on most Saturday mornings from 8:30 to 10. On Wednesday evenings from 6:15 to 6:50, a general note bashing session is held to help members develop competence and confidence with the musical repertoire. All members are encouraged to attend this "prerehearsal" session. Promptly at 7 p.m., the regular rehearsal which all men are expected to attend begins. The regular rehearsal may be divided between working in sections (learning notes, rhythm language, phrasing, etc.), and rehearsing the total group to blend into an ensemble. This first portion of the regular rehearsal runs until 8 p.m. at which point a 10 minute break is scheduled. At 8:10 the group reconvenes and continues to rehearse until 9 p.m. Announcements and discussions of Orpheus related matters are conducted after 9 p.m.

In addition, as need dictates, rehearsals may be scheduled at other times to focus on nuts and bolts considerations in order to prepare the group for upcoming performances.

Fall rehearsals begin with an introduction to the opera choruses for the season. Other numbers to be integrated into the seasons' programming are also introduced including Russian songs and selections to be included into the San Xavier concerts in December. As the San Xavier concerts near, rehearsal time is devoted to the preparation of the sacred Christmas repertoire. Following these Christmas concerts, rehearsals emphasize the Russian music in preparation for performances in February with the Arizona Balalaika Orchestra. When the Russian concerts are completed, the focus of the rehearsals returns to the preparation of the opera choruses and other music to be featured in the Sons Spring Gala in May.

Members are expected to take their participation in the chorus seriously and are asked to make their commitment to rehearsal with a high priority. Members who expect to miss a rehearsal are asked to contact their respective section leaders. Absent members are responsible for "catching-themselves-up" by contacting their section leaders to find out what was missed.

During rehearsal time, members are expected to concentrate on the task at hand, learning to perform the music with excellence. Discussions with neighbors are to be avoided. The limited time for rehearsing is used to maximum efficiency when all men exercise self- discipline by staying focused on the music. Instruction in foreign language is the responsibility of the Artistic Director and other language experts designated to assist in the training. Members should be attentive listeners to the pronunciations provided, and should avoid repeating words and phrases aloud since such repetition makes it difficult for others to hear and grasp the nuances of pronunciation being taught. Section leaders are responsible for helping to create a positive, constructive learning atmosphere during rehearsals.
---
Concert Performances:

Sons of Orpheus is a performing choral organization and schedules 25-30 concerts per season. In an attempt to minimize the stress which naturally goes with a busy concert schedule, good faith efforts are made to schedule concerts no more frequently than on two week intervals, and around religious and other special holidays. Exceptions, of course, are inevitable and on occasion will require scheduling in a more concentrated manner.

The performance schedule features three major concert repertoires per season: the Christmas concerts at San Xavier and other venues, the Russian concerts, and our own Spring Gala concerts. All other concerts during the season draw on music from our "core" repertoire and from other music that has been selected for performance during the season.

Performances are typically scheduled on weekends - Friday evening, Saturday afternoon or evening, and Sunday afternoon. Although some performances may be scheduled in October and November, our major "fall" performances are comprised of Holiday music and scheduled in December. Since 1997 they have culminated in beautiful sacred Christmas performances with the Tucson Boy's Chorus at San Xavier Mission.

Our second major choral emphasis features Russian music performed in February in conjunction with the Arizona Balalaika Orchestra and the Kalinka Dancers. During late February, March, and April we turn our attention to preparing for the Spring Gala, and typically have 6-8 performances scheduled to help us fine tune our performances in anticipation of the Spring Gala. Following the Spring Gala in May we may have a few additional performances before ending our season. On alternate years we have performed with the Tucson Pops in June.

Major concerts are typically scheduled to be about 1 1/2 hours in length with an additional 15 minutes allotted for an intermission. So that the majority of the concert time is committed to the performance of music, commentary about the selections is condensed and minimized. Background information about the selections performed is published in the concert program for audiences to read at their leisure. All Sons are expected to make a commitment to the major performances.

Recognizing that all members are not able to participate in all scheduled performances, Sons has established the following plan. A volunteer sub-group of the men ("Flying Squad"), a minimum of 16 men (4 1T, 4 2T, 4 1B, 4 2B), has been established to perform short programs for service club luncheons, charitable organization benefits, retirement communities, etc.

Soloist openings are announced by the Artistic Director. Members who wish to be considered for such roles should contact the Artistic Director for an audition. All solo parts are to be memorized for performance. All soloists will be backed up by an understudy in case the primary soloist is unable to perform.

A "Season Calendar" is established at the beginning of the season identifying rehearsal times and performance dates as they become established and committed.

To help assure quality performances and audience satisfaction, only concert venues which provide adequate performance facilities (warm-up space, good light and sound systems in the performance area, adequate space for the choir, piano or organ in good repair, etc.) are scheduled.
---
Readiness to Perform:

To be assured that Sons concerts are of the highest quality, members must meet a "readiness to perform" standard. That is, members are expected to:
know the appropriate notes for their respective parts, and be able to sustain the appropriate pitch.
know the lyrics and their proper pronunciation.
know the appropriate rhythm and phrasing of the music.
know and be responsive to the dynamics of the music.
have sufficient competence with the music so that they can attend to the leadership from the Artistic Director rather than being slavishly preoccupied with musical scores during performances.
know for memory those pieces that have been designated to be memorized.
Regular and conscientious participation in rehearsals is the means for acquiring performance readiness. Without such participation, members have low likelihood of being able to master the music and contribute to the overall ensemble of the choir. Men who do not feel qualified to meet this standard of performance for a specific concert are encouraged to sit out that concert performance. They should let their section leaders know they will not be performing. In circumstances where members do not meet the above standard, they may be asked by the Artistic Director to skip performances for which they do not appear to be appropriately prepared.
---
Performance Demeanor and Showmanship:

Sons of Orpheus is a performing choir. As such, it is important for members to demonstrate a level of professionalism in appearance, stage presence, and showmanship that reflects the choir's commitment to excellence. Such factors as everyone carrying his music book in the left hand when entering and exiting the stage in an organized manner, all members opening their books together when given that direction by the Artistic Director, turning pages in unison in a non-distracting way, being familiar enough with their music to be able to watch the Artistic Director for direction, maintaining eye-contact and being responsive to the audience as much as possible, and singing with joyfulness and a smile (when such is appropriate) are all marks of the professionalism that characterizes top-notch performing choirs.
---
Membership:

Membership is open to men who love to sing and who are interested in performing a broad, challenging choral repertoire. Members range from those with a limited musical background to those with many years of choral experience and considerable musical expertise. They range in age from the 20s into the 80s and come from all walks of life. Those having special musical skills and expertise such as conducting, arranging, etc. will in all likelihood be asked to contribute those skills for the benefit of the organization.

For prospective members, a simple, informal "audition" is used to assess voice quality and section placement. In instances where there is some question about the "fit" of a prospective member in the choir, such individuals will be referred to the Artistic Director for consultation regarding their musical futures with Sons of Orpheus.

Joining Sons of Orpheus can be a somewhat daunting experience. There is a complex organization to understand, new people to get to know, and new music to master. To help candidates make an informed choice about joining the chorus, Sons has instituted a mentoring program. At the start of the new season, each prospective member is paired with a veteran member as his mentor. The major responsibilities of the mentor are: 1) to help the prospective member learn about Sons and develop reasonable expectations for his experience with the choir, and 2) to enable the fully informed new member to integrate into the culture of the choir as quickly as possible. "Learning the ropes" from a seasoned member can make the task of deciding about membership, and then finding one's place in the organization much easier.
---
Reasonable Expectations:

Following is a summary of expectations that a prospective member needs to have about his participation in Sons of Orpheus.
The regular rehearsal/performance season typically extends from late August into May.
On the average there are 25-30 performances per season.
Rehearsals are held on a weekly basis: Wednesday evening from 6:15 to 9, and on and Saturday mornings from 8:30 to 10. Members should expect to attend at least 75% all regular rehearsals
Extra rehearsals may be scheduled as needed prior to performances that need extra rehearsal time.
The repertoire is broad including music to be sung in foreign languages.
Members are expected to participate in the organization as members of "action teams" and other ad hoc committees as needed.
Members are expected to provide their own black tuxedos and accessories - one of the performance "uniforms" of Sons. Suggestions for the purchase of tuxedos and accessories can be obtained from section leaders and mentors.
Members are expected to provide their own black cowboy hats and black shoes.
Members are expected to provide themselves with two 3-ring binders in which to house their music - one red and one black.
Members are asked to sell tickets for the Spring Gala concert.
Members are expected to pay the annual dues by October 1. If a lump sum payment creates a hardship, members should talk with the Sons Treasurer about alternative arrangements for payment. No refunds of membership dues will be made after November 15 (fall season) or March 15 (spring season).
The alternative Sons uniforms are comprised of

a blue "Vamos a Tucson" polo shirt (supplied by Sons) and beige slacks (supplied by member).
a Russian rubashka (peasant shirt supplied by Sons) and black slacks (supplied by member).
a white dinner jacket (supplied by Sons) The two shirts and the dinner jacket supplied by Sons are on loan to members for a $50 refundable deposit. Returned garments should be laundered or dry-cleaned.

Members can expect to receive one copy of the music to be performed for the season This music is on loan and to be returned to Sons. In some cases individual men highlight and personalize their copies of music to the extent that they cannot be readily used by others. In such instances, Sons members will be asked to repay the organization for the cost of the "personalized" music.
---
Finances:
The projected annual budget for the 2006–07 Sons of Orpheus season is approximately $45,000. The main sources of income are: performance fees and ticket sales, grants (Arizona Commission for the Arts and Tucson Pima Arts Council), special projects (e.g., rummage sale), and member dues. Other sources include donations, CD sales, and gifts from members and supporters.
The main expenses of the organization are paying our Director, accompanists and guest soloists; marketing and production costs for the choir and its concerts; buying and reproducing music; the rental of rehearsal and performance space; insurance; and bookkeeping and tax services.
Membership in Sons of Orpheus may be tax deductible. Consult your accountant.
The approved budget is provided to members near the beginning of the new season. Then financial statements are provided two times per year: at the end of December and at the end of the season. These statements detail the specific sources of income and categories of expense that reflect the financial status of the organization.
Decisions about the expenditure of organizational funds are made by the Executive Committee under the supervision of our Board of Directors. No member should purchase or contract to purchase items for Sons of Orpheus without prior approval by the Executive Committee.
---
The Organization:

The Sons of Orpheus organization is composed of a general policy-making Board of Directors, the Artistic Director, a Music Committee, Sectional Leaders and Associate Sectional Leaders, a number of Action Teams made up from the membership that handle the day-to-day functioning of the organization, and an Executive Committee. In general, the Artistic Director is responsible for the "music" aspects of the organization, and the Executive Committee is responsible for the "non-music" aspects of the organization that support and facilitate the "music" aspects.
---
Board of Directors:

The Board of Directors is made up of individuals from the community who provide leadership in bringing about broad-based support for the organization. In addition to being a general policy making group and the governing body of the organization, the Board has responsibility for major fund raising efforts, and for organizational and facility development. Board members are expected to be active in their involvement with Sons of Orpheus. The Offices of the Board of Directors are: President, Vice President, and Secretary/Treasurer. The choir's Founder/Artistic Director and the Chairman of the Executive Committee also are Board members.
---
Artistic Director:

The major responsibilities of the Artistic Director include:
conducting rehearsals and performances
selecting repertoire and designing programs for specific venues
overseeing the production of individual concerts
creating arrangements for music
reviewing written materials representing Sons
delivering music background comments at concerts
overseeing the production of flyers and announcements
serving as a Sons "contact person" for prospective members
monitoring the "calendar" to prevent over-booking and to assure the proper pacing of concerts
reviewing Sons performances for quality -serving as liaison to the larger community
selecting solo performers
auditioning prospective choir members
---
Executive Committee:

The primary decision making body of Sons of Orpheus is the Executive Committee comprised of the Artistic Director, the Section Leaders, the Secretary, the Treasurer, and two (2) choir members elected annually from among the senior members (minimum of 1 year in choir) of the chorus. This committee provides overall direction and support to the existing programs and the future plans of the organization. It also coordinates the work of the Action Teams and other ad hoc committees and has the final authority for decision-making regarding those non-musical aspects of the organization not assumed by the Board. Open two-way communication between the Executive Committee and the various Action Teams is essential to the effective organizational and artistic development of Sons of Orpheus. All projects undertaken by Orpheus will have a clearly designated Action Team or ad hoc leader to successfully spearhead the project to completion.

The Executive Committee holds monthly meetings that are open to all members who are interested in the organization's planning and committee activities.
---
Treasurer (Executive Committee):

The responsibilities of the Executive Committee's treasurer include:
keeping records of the income and expenses of the organization
making periodic financial reports to the membership
creating and maintaining appropriate bank accounts for the organization
managing our outside bookkeeping and tax preparation services
acting as contracts representative - rent, insurance, etc.
paying guest soloists, accompanists, etc.
paying bills for ongoing expenses - rent, music reproduction, equipment, etc.
managing receipt and expenditure of grants
preparing and submitting the proposed annual budget to the Board
sending acknowledgment letters to donors
---
Financial Secretary (Executive Committee):

The responsibilities of the Executive Committee's financial secretary include:
collecting dues
collecting refundable deposits for shirts and jackets
depositing all revenue checks and cash
maintaining necessary deposit records
---
Secretary (Executive Committee):

The key responsibilities of the Executive Committee's secretary include:
generating all out-going correspondence for the Executive Committee
preparing and keeping file of all official correspondence from sponsoring groups, funding organizations, ASCAP, etc.
assisting in preparation and archiving of concert programs, reviews, program announcements, and attendance information.
preparing and maintaining lists of prospective members, supporters, etc.
collecting, collating and maintaining file of all member applications and bio statements.
preparing, maintaining and distributing a current membership list.
maintaining file of grant applications, grant approvals, and grant reports.
maintaining file of publicity materials issued In the name of Sons of Orpheus.
maintaining file on concert evaluations received from audiences.
updating the Policies and Procedures manual on an annual basis.
---
Music Committee:

The Music Committee is comprised of the Artistic Director and up to four additional choir members who are selected by the Executive Committee. The responsibilities of the Music Committee include:
collecting suggestions/recommendations for musical themes and individual songs for future seasons from the membership. Copies of music arranged for 4-part male choirs should be provided to the committee when possible.
reviewing suggestions/recommendations during the spring/summer planning for the new season.
assisting in the creation and production of concert programs, including program notes and translations.
generating computerized reproductions of musical scores as needed.
assisting in the production and distribution of "practice" tapes to section leaders.
overseeing the recording of Sons performances.
overseeing the production of audio and video tapes and CDs.
overseeing the marketing of audio and video tapes and CDs.
---
Librarian:

The responsibilities of the choir's librarian include:
organizing and cataloging music
copying and distributing music
keeping records of the distribution and return of music materials
maintaining a file of concert programs
maintaining a file of newsletters - Voice of Orpheus
---
Section Leaders:

Each section (Tenor I, Tenor II, Baritone, Bass) has a Section Leader and Associate Section Leader. Their responsibilities include:
Regarding weekly rehearsals

taking attendance of members in section.
calling AWOL members after two (2) weekly absences.
calling AWOL members before each concert to provide them with info about concert repertoire, dress, call time, etc.
collecting info about members who are going to be absent from concerts and relaying such information to the Director.

Calling sectional rehearsals when performance weaknesses are noted.
Arranging for copying and distributing audio practice tapes.
Establishing a sectional seating/standing arrangement to maximize ensemble and member reliance on each other.
Conveying special messages/instructions from Director to members.
Tracking the progress of new members in section.
Emphasizing the need for "Flying Squad" members to attend all rehearsals..
Appointing an Associate Section Leader as a backup to Section Leader.
Surveying members periodically to identify issues and suggestions to be discussed with the Executive Committee by the Section Leaders.
Emphasizing the importance of members being on time for rehearsals so that maximum advantage can be made of the time.
Stressing the importance of members being attentive and respectful of the Director during rehearsal. Section Leaders should speak privately to members who are chronically disruptive.
---
Action Teams:

The tasks inherent in making and keeping the organization vital and efficient require broad based involvement and participation on the part of the membership of Sons of Orpheus. The following Action Team structure is designed to implement member involvement and active participation. Each Action Team is headed by a two person co-chair spearheading the activities of the Team. On an "ad hoc" basis it may be necessary to draw in additional members of the organization to deal with specific projects. Action Team members are identified based on their interests and skills. The specific Action Teams and their respective duties are identified below.
---
cultivate connections for worthy nonprofit "benefit" concerts
design and implement a Sponsor Recognition Program
collect names of "Friends of Orpheus" on sign-up sheets at all concert venues
generate list of potential charitable Foundation supporters
generate list of potential corporate and business supporters
develop and maintain an updated mailing list and e-mail list
maintain updated, inviting Sons Web Pages
exchange info with other choirs
maintain current e-mail addresses for all active on-line Sons
---
Newsletter (Voice of Orpheus):
create newsletter for "Friends of Orpheus" and other potential supporters, benefactors, and patrons
oversee printing and reproduction of newsletter
oversee addressing of newsletters
distribute newsletter through regular mail service and e-mail
---
Fundraising (major efforts by Board, projects by men include):
promote Big Planet affiliation
seek grants and other sources of public and private funding
sell tapes and CDs
develop and promote fund raising events (raffles, singalongs, rummage sales, etc.)
generate sale of advertising space in concert programs
---
Recruitment, Membership and Wellness:
assist in producing and distributing recruitment flyers
identify Orpheus "contact people" for prospective members
welcome new members
create "new member" packets
keep membership roster current
conduct "exit interviews" of members who drop out
monitor and report news of ailing Sons to members
arrange visitation to ailing Sons as appropriate
promote activities for Sons that enhance health and wellness
---
Concerts and Tours:
review concert performance venues for appropriateness
create printed concert programs
create musical background statements and translations for inclusion in concert programs
arrange for creation of tickets for concerts as needed
create and periodically update "season calendar"
create mechanism for evaluating concerts by audiences and gather evaluation data at concerts
assist in monitoring calendar to prevent over-booking and to assure appropriate spacing of concerts
gather and analyze feedback from concert sponsors/audiences
identify potential locations for performance tours
gather and present info regarding tour specifics
coordinate arrangements for tour
oversee preparations and logistics of tour
---
Production:
set up sound/lighting for performances
make recommendations on purchases of equipment
assign "Front of House Manager" for each concert
assign "Stage Manager" for each concert
develop teams to be responsible for transporting and setting up/taking down risers
recommend sources for purchase of tuxedos, hats, etc,
coordinate creation and distribution of rubashkas
gather data regarding the purchase of other "uniform" items
arrange for acquisition and distribution of "uniform" items
---
Historian:
maintain roster of past choir members
maintain a chronology of the choir's history
collect and organize written materials regarding the choir
collect and organize photos pertaining to the choir
collect and record anecdotes from choir members
---
Auxiliary:
organize Welcome party for new members
organize Christmas Party
organize end of season party
organize Potlucks and Sing-a-longs for members
organize other Sons social gatherings
assist in ticket sales for concerts
assist in marketing Sons CDs at concerts
organize and handle concessions at concerts
usher at concerts (distribute programs, gather evaluation sheets)
staff information and recruitment table at concerts
prepare boutonnieres for concerts
assist in pricing items for rummage sale
---
Chorus Atmosphere:

Although serious about generating top-flight performances, Sons of Orpheus maintains a friendly, easy-going, playful atmosphere. Modeled by the Director who has a delightful sense of humor, members enjoy themselves and each other. A sense of camaraderie exists among members that stimulates an atmosphere of brotherhood.

The continued cultivation of an "our choir" orientation is essential to the future evolution and maturation of Sons of Orpheus. Fostering a spirit of ownership and involvement in the organization by members leads to cooperative, collaborative efforts which in turn contribute to making Sons of Orpheus the best it can be both artistically and organizationally.

With Sons of Orpheus recent growth in membership, it has become increasingly difficult for choir members to get to know each other well. In addition, members' spouses, partners, and family members who lend support to the efforts of Sons in a variety of indirect ways, need to have ways and means of getting to know other members of the Orpheus family. To respond to these needs, Sons organizes four social gatherings per season: one in the early fall welcoming new members, a Christmas party, a party following the Balalaika concerts, and a season end party following the Spring Gala concert. In addition, other gatherings of a less formal nature are created in response to the wishes of the membership.

As a means of more directly involving members' spouses and significant others in Sons related activities, an auxiliary has been developed. Members of the auxiliary have responsibility for helping with advertising, ticket sales, concession sales, cassette and CD sales, organizing of social events, and other tasks supporting the organization and its programs.
---
The Future of Sons of Orpheus:

Sons of Orpheus has been growing. The goal is to have a core group of men large enough to perform major symphonic works and to have Sons of Orpheus take its place among the best male choirs in the country. Increasing the ethnic diversity of the group is important and Sons is pursuing recruitment strategies to that end. Our organization is also searching for a permanent rehearsal site and home. Sons will continue to broaden its musical repertoire while also developing a collection of "the best from the past" to be reintroduced into future programs.
---
For Additional Information: If you would like to learn more about Sons of Orpheus, you can:
Write to Sons of Orpheus, P.O. Box 31552, Tucson 85751-1552.
Visit our World Wide Web Homepage
http://www.sonsoforpheus.org
Call Grayson Hirst - Artistic Director - at 520-403-1445 or 520-484-3743.
Send an E-mail to our contact e-mail address listed at the bottom of this page.
Contact any current member of Sons.
---
To send us comments or questions about Sons of Orpheus,
please use your email program to contact us using this address.