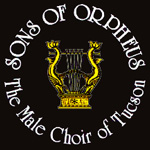 Home
Información en español
Join
Performances
Founder/Director
Our Bios
Gallery
Newsletter
Administration
Support
Engage Orpheus
Repertoire
CDs & Audio
History & Policy
Links
Members Only


Engage Orpheus

SONS OF ORPHEUS performs regularly in Tucson and in surrounding communities of Southern Arizona. We prepare and present both shorter (45-60 minute) "mini-concerts" and full length recitals. If you are raising funds for a charity, it is possible that the choir would give its services free of charge to help you. You would normally, however, have to pay expenses, and, unless the venue were local to the choir, some light refreshment would be appreciated, either before or after the concert. If you are not involved with a charity, but still want us to give a concert, there would normally be a fee. Details can be obtained from Grayson Hirst (520-403-1445 or 520-484-3743).

It is advisable to book a date as soon as possible before the calendar becomes full. To schedule a concert on a specific date, we would normally need to complete arrangements a year in advance.

If you would like to hear the sound of ORPHEUS, you can obtain our CDs and listen to audio clips here.

SONS OF ORPHEUS is supported principally from gifts, paid appearances, and some grants from various public and private granting agencies including the Tucson Pima County Arts Council, the Arizona Commission on the Arts, The Tucson Community Foundation, and has received seed money from the Fine Arts Development Fund of the University of Arizona.

Sons of Orpheus prohibits discrimination on the basis of race, national origin, color, creed, religion, sex, age, disability, veteran status, sexual orientation, gender identity, or associational preference regarding choir and board membership, staff, volunteers, and guest musicians.

To send us comments or questions about Sons of Orpheus,
please use your email program to contact us using this address.